Restoring Your Quality of Life
Over the years your joints weaken, and the resulting pain can become completely debilitating if not managed properly. If your joints are preventing you from completing routine daily tasks, keeping you up at night despite the use of medications, or wearing you down mentally and emotionally, it may be time to consider a joint replacement.
At SCP, our physicians are redefining the experience for patients who require total or partial joint replacement. One of the first centers in the state of South Carolina to offer this service, but we're setting the standard for outpatient joint surgery. Patients who meet certain criteria may elect to have their surgery performed on a same-day basis in a comfortable and relaxed setting, avoiding a lengthy hospital stay in the process.
By choosing to have your procedure performed in a conveniently located ambulatory surgery center, you can sleep in your own bed on the morning of your surgery and be home the same evening.
For more information about partial or total knee replacement in the outpatient setting, please contact the following physician who perform these procedures in our surgery center:
Frank Armocida, MD
Medical Group of the Carolinas- Orthopaedic
864-849-9150 | www.medicalgroupofthecarolinas.com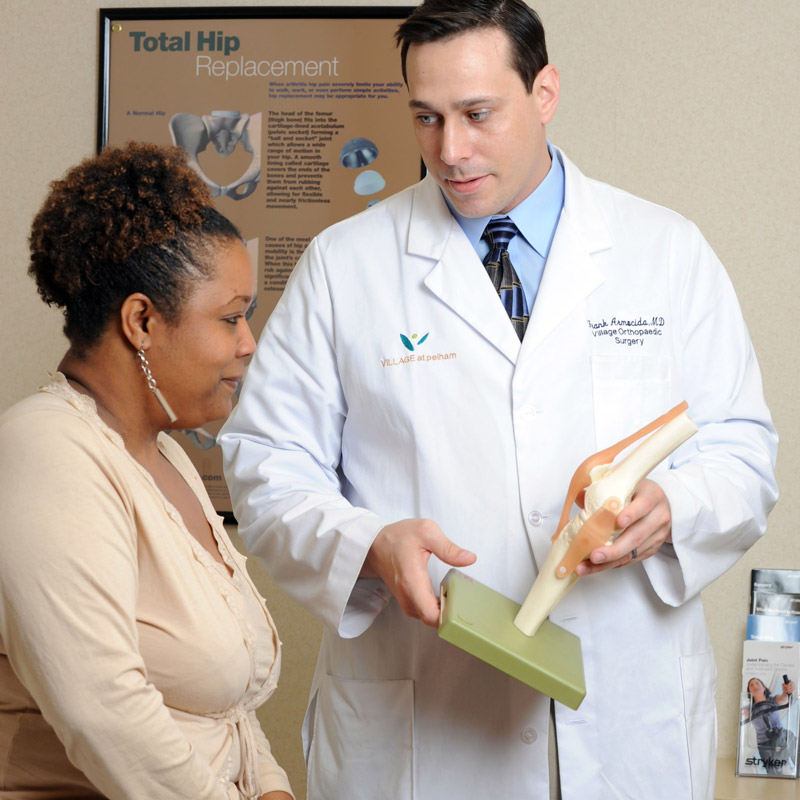 Frequently Asked Questions
Which patients need joint replacement?
Joint replacement surgery is generally advisable for patients with severe arthritis or other joint disease who have failed conservative treatments that may include management through pain medication, local injections, exercise or activity modification, weight loss or physical therapy and rehabilitation.
Can anyone undergo joint replacement at your surgery center?
Surgery centers have a more strict focus in regard to the types of patients they may admit, and not all patients who seek outpatient joint replacement are target candidates for a procedure in such a setting. However, many patients meet necessary criteria to be eligible for this outpatient option. Candidacy for outpatient surgery is dependent upon certain health factors and your insurance coverage.
What are the necessary requirements for me to consider outpatient joint replacement?
Healthy patients who do not have significant underlying health conditions or concerns are typically able to undergo same-day, outpatient surgery. Some of the factors we consider may include, but are not limited to, uncontrolled diabetes, high blood pressure or a history of heart problems or obesity. Consult your physician to determine the right surgical setting for you.
Does insurance cover this outpatient procedure?
Most commercial insurances do allow for outpatient joint replacement. To learn if your specific carrier covers outpatient surgery, please contact us.
What is the difference between partial and total knee replacement?
Total or partial knee arthroplasty involves the repair and replacement of the natural components that make up your knee, which wear down and are damaged over time. These components are removed and artificial components take their place during surgery.
Partial knee replacement utilizes a minimally invasive approach (employing a smaller incision and less disruption) when compared to traditional total knee replacements. During a total knee replacement, patients have all cartilage in the knee removed and replaced by metal or plastic components. In a partial replacement, only the most damaged elements in your knee are removed and replaced by metal or plastic components. The healthy, functional elements of the joint are left remaining intact.
An orthopaedic surgeon will conduct the following steps to determine if partial or total knee replacement is right for you:
Review your medical history and evaluate previous methods of treatment
Perform a physical examination to determine the severity of your knee's deterioration
Study your X-rays
Dependent on these factors, the surgeon will determine if you are a candidate for a partial knee replacement. For some patients, this less-invasive approach is appropriate. For others, who have more severely diseased or advanced degeneration in the joint, a total knee replacement is the better option.
Why choose a partial knee replacement?
Many people have knees that only have arthritis in one part of their knee. Therefore, the whole knee does not need to be replaced. In most cases, partial knee patients recover faster, have less pain, require less postoperative rehab and have a more normal-feeling knee after the procedure.
Through advances in pain control, technology and specialized medical staff, partial knee replacement at the Surgery Center at Pelham has been performed successfully in an outpatient setting.
Partial knee replacement utilizes a minimally invasive approach (employing a smaller incision and less disruption) when compared to traditional total knee replacements.
Why choose a total knee replacement?
The basic reason for total knee replacement surgery is to repair advanced joint damage caused by osteoarthritis – the wearing away or disease of most of the structural elements of your knee joint. People who need knee replacement surgery usually have problems walking, standing up, participating in light exercise, or climbing stairs. They may also experience significant discomfort, even when at rest. A total knee replacement is better for a patient who has more total or comprehensive wear and tear in the bones and cartilage that make up the knee.